Dymond shopfittings metal retail display equipment
Bespoke Metal Shop Fittings and Retail Display Systems
Dymond Engineering has established a reputation as a specialist manufacturer of bespoke metal shop fittings and retail display systems and fixtures.
We have developed this service to meet the specific needs of retailers, shop fitters and designers for retail display fixtures, fittings and stands that display merchandise to best effect and maximise store sales.
And whether its fashion, hardware or food, it's likely that you'll have shopped in some of the stores utilising our products as our shop fittings are installed in many independent shops and high street chains across the UK.
Typical retail display products include: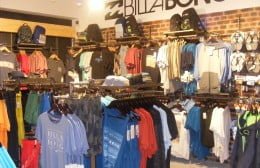 POS display stands
mid-floor gondolas
RSBs
back panels
wall fixtures, including rails
ferrules- aperture and arm fittings
display arms, including straight, 'waterfall' and stepped
D-Bars, T-Bars and shelves
accessory hooks and prongs
baskets
brackets.
When you need a metal work supplier with a full understanding of the retail environment and the importance of bespoke metal shop fittings system in generating sales, then Dymond Shop Fittings is here to help you.
Visit our dedicated Dymond Shop Fittings website for details of: