Rock and Roll Bed Frames for Campervan Conversions
An absolute Must Have for any campervan conversion, rock and roll beds allow the rear 2 car seats in your campervan to easily convert into a bed frame for sleeping.
Essential for any campervan conversion used for camping and sleeping in, a Rock and Roll bed gives you a comfortable night's sleep and then folds back into seating for travel. The easy glide mechanism is designed for both ease and safety, and it's the perfect space saving device, complete with large under-seat storage area.
Scroll down to see Features and Benefits below
At Dymond Engineering we primarily supply rock and roll frames to businesses which carry out campervan conversions and installation.

We manufacture to order which means we make your frames to your size and specifications (minimum production quantity of 10).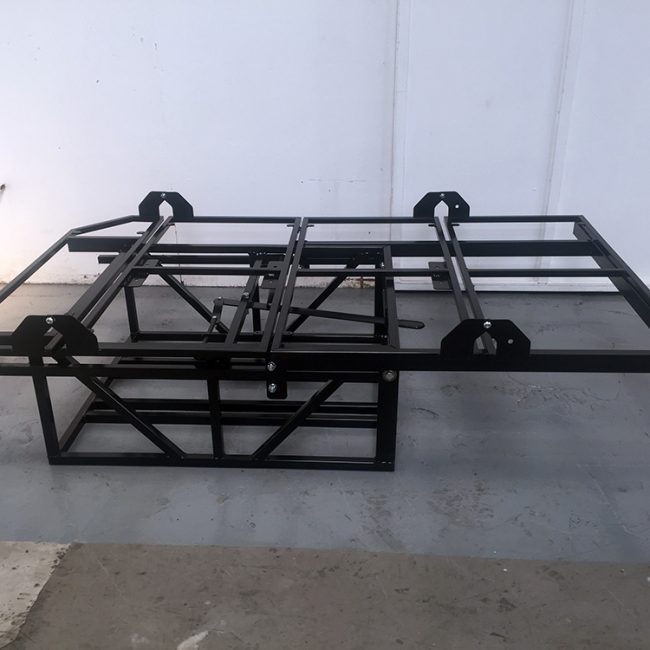 This means we can make bed frames for any van, including: Volkswagen Transporter, Ford Transit, Renault Trafic, Fiat Ducato, Fiat Talento, Nissan NV300 or Vauxhall Vivaro, Mercedes Sprinter & vito, and Mazda Bongo.
Frames that we manufacture to your specification will need to be crash tested.
Features and Benefits of our Rock and Roll Beds
Heavy duty, easy glide, wheeled track system for safety and ease of operation when changing between seat and bed.
Operates with a single handle, locking on either side of the frame.
Test proven double latch pin locking system.
Manufactured from heavy duty steel box section tube, making them strong and durable but not too heavy.
Heavy duty metal anchor points for seat belts whilst travelling.
Powder coated in your choice of colour from the RAL range.
Large under-seat storage area.
We were delighted with the service we experienced from Dymond Engineering for our brand-new store fit-out in Romford Essex. We decided on an industrial look and theme with a modern twist and once we found the look we wanted, we then went looking for a manufacturer to produce our floor and wall display units and…
We at Calendar Club have enjoyed working with Dymond and the team since 2004. They have helped us re-engineer many of our existing fittings, as well as developing new fixtures. This has resulted in a flexible system which enables us to build one of our seasonal units in any location to the required specification in…
One of the great things when working with Dymond is they have always understood our brief, given their advice on how best to achieve it, told us what they are going to do and then delivered what they promised. They provide invaluable input into the design and functionality of the shop fittings we require; advising…
This season we have started using the Dymond Engineering Partridge Feeders. They are well built weighing some 25kg empty, thus not blowing around. They are 100% water tight, suitable for the Exmoor wind and rain. Holding approximately 60kg of compound pelleted feed, they enable keepers to fill only in favourable weather, say on a twice…
Having used Dymond Engineering for the metalwork on a previous job, when we needed a metal fabricator for our Wembley Park Market job we chose Dymond.  Not only do they specialise in metal shopfittings, they also submitted a competitive price and deadline. We presented the concept and drawings to Dymond who then helped us to…
When looking for someone to assist in designing new concept shopfitting for our next 500 stores I had no hesitation in turning to a team I have used previously with great success. Jonathan Loader and Colin Dymond complement one another, with Jonathan providing well considered and effective design input, which Colin translates into practical yet…
Condor Cycles are one of the UK's leading manufacturers of bespoke bicycles. Using the latest innovation in Italian designed frames, their meticulous attention to detail means they have led the field in custom cycles for over 60 years. Having operated from their store in Central London for 10 years they decided to purchase the adjacent…
Hills Design have been working with Dymond for nearly 20 years in the design, development and supply of metal based retail display equipment. On every project we have received an instant understanding and buy-in of our creative ideas and solutions. This is followed by the usual sensible interpretation into what is best relative to manufacturing…
For more than 20 years Dymond have supplied us with innovative solutions at competitive prices, often within tight time scales. Dymond Engineering work hard to understand a client's needs and repeatedly deliver above our expectations. They value engineer in accordance with the market and application, and apply considerable expertise within both areas. Over the period…