Metal work for the schools and offices sector
Schools and offices started approaching Dymond Engineering early in 2010 asking if we would supply them with subcontract metal work services. Of course we said yes!  Since then we have done some really exciting metal fabrication in this sector –  both locally and further afield.
Dymond in education
Our refit of the library for Braunton Academy has transformed their students learning environment. Dymond listened to the brief, which was for stylish, practical but hardwearing desks and shelves to give a light modern library environment. And oiur approach exceeded all expectations and Braunton Academy's Aspire Centre now has a brand new library which is more conducive to learning than the worn-out and old facilities.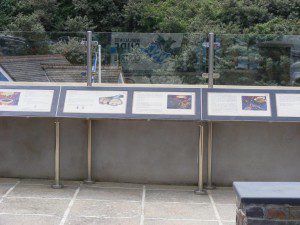 We also undertook a great project for Ray Parkin of Parkin Estates, the owner of Woolacombe beach. When you go to Woolacombe you will find, at the far end of the main car park, an informative and innovative display that we co-designed and manufactured.