UK made metal shop fittings
If you are an experienced shop fitter or joiner needing a competitive Great British manufacturer, or an independent boutique owner looking for innovative and stylish shop fittings, we have the expertise and skill to help you create a stylish, hard-working sales environment.
In 1981, Dymond Engineering was established to manufacture metal shop fittings and display equipment for Railston Ltd. Railston is still one of our very valued customers today. We pride ourselves on the strength and longevity of our customer relationships. Giving our customers high-quality service is a priority for us.
Whether you want us to make an existing product, or you need design-engineering support to develop a new product, or value-engineering to reduce costs, we have the skills, flexibility and capability to deliver the best solutions for you and your clients.
We have 40+ years of experience and relationships with shop fitters. So we understand the industry demands and know how to work alongside you to best effect.
"When looking for someone to assist in designing new concept shopfitting for our next 500 stores I had no hesitation. I turned to a team I have used previously with great success." Gordon Bullock, Wanadoo
Maybe you have an empty retail space, how do you know which metal shop fittings will be most effective at getting the right footfall to the right products? Or, you know what you need and you just want a great supplier to produce your designs, who do you choose? Dymond! We know exactly what works and how to help!
We can support you with specialist expertise in the design and manufacture of high-quality metal shop fittings for superior impact. From layout and design through to manufacture and finishing, we have the retail skills and experience to create display equipment to present your products beautifully.
During the last 40+ years we have developed our reputation as a leading specialist manufacturer of shop fittings. We offer bespoke metal shop fittings and our own Dymond retail display systems.
"I'm also delighted to report that footfall has increased since we re-opened. Customers are curious of the new store layout and in spite of the COVID pandemic, we have experienced encouraging sales which we are sure is down to the new environment." Ken Mills, Owner, Boxfit UK
Our bespoke shop fittings solutions
We manufacture an extensive selection of bespoke metal retail display equipment (far more than client confidentiality enables us to show here). So whether you need a fully integrated bespoke display system, Point of Sale display stands or mid-floor gondolas, we can supply you with those and, of course, everything in between including all the arms and hooks you need. It goes without saying that we deliver all this at the lowest possible cost to you.
Dymond's retail display systems
Unlike most retail display systems, the Dymond systems are not modular. That's a huge benefit because modular systems come with one major drawback – they are not designed for your store, so their fixed sizes and limited configurations may not be the best fit for your particular situation. With Dymond's retail display systems, we can quickly and inexpensively customise components to exactly match your unique requirements. We can adapt them to fit awkward spaces and wall surfaces and can make them look fully bespoke for you at a fraction of the cost.
Reducing time and costs for you and your staff
This adaptation to your space reduces installation time and saves money at the fitting stage.  What's more, the fact that it perfectly meets your needs, increases longevity and provides a better return on investment. Staff also find it quick and easy to make profile changes in response to shifting seasonal demand. Last, but certainly not least, systems like this –  with all these things going for them – boost 'shopability'. They show off merchandise to best advantage, make life easier for your team and create an attractive retail environment which maximises sales.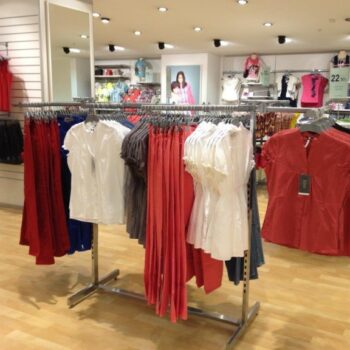 When it comes to smart finishes you can choose from powder coated, brushed stainless steel, nickel or chrome polished. Add all these factors together and you get most of the benefits of bespoke – but for a fraction of the price.
We also pride ourselves in working to strict deadlines, because we make everything here in Devon, we have that control. We give you high-quality fittings, short lead times and prompt deliveries.
Dymond understand what you need from your shop fittings
We understand the impact that display equipment has in maximising your sales. Our metal retail fittings display equipment is stylish and robust, and so displays your merchandise to best effect. Dymond's systems have been used to fit out independent retailers and well-known high-street multiples throughout the UK – in the fashion, hardware, food and homeware sectors.
Our expertise is second to none amongst metalwork engineer-manufacturers. We turn your display ideas into fabulous reality with the help of our original designs and design-engineers. We create the metal fittings and display equipment you want, whether you are starting with full CAD designs or an empty room.
If you've got any questions about shop fittings, please get in touch and make sure you choose Dymond!