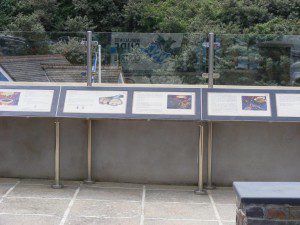 Ray Parkin of Parkin Estates, the owner of Woolacombe beach, decided to celebrate the rich history of the area. He wanted a display to depict the tied history of Woolacombe and Mortehoe.
Woolacombe and Mortehoe: The overview – a lasting tribute to the area 
Ray commissioned Dymond Engineering to design and manufacture the stainless steel metalwork for this important project.
The Brief: The Overview – stunning and durable
The display needed to be able to withstand the unforgiving sea-salt environment of the area and be informative to the locals and visitors alike.
The Solution:
Dymond designed and manufactured metalwork for the display, including frames to hold more than 20 pieces of slate. Each piece of slate showcases a hand drawn image conveying the history of the two villages. Dymond also designed and supplied the the balustrade, posts and legs which support the whole display structure.
Working with Alan Black of Parkin Estates we overcame a number of interesting challenges, not least of which was the uneven floor! And the result looks great!
You can find the display at the far end of the main car park by the step onto the beach. Its well worth a visit if you are in the area.
The Result:
It was a wonderful project to be involved with and we were both delighted and proud to see the fantastic results at the opening ceremony – albeit you can see from the pictures that the weather was not kind that day!
Why not check it out when you are next in Woolacombe – and let us know what you think!