Dymond manufactures metal frames for commercial furniture.
We manufactured these frames for a high end restaurant, the dark blue EPC brings longevity and style!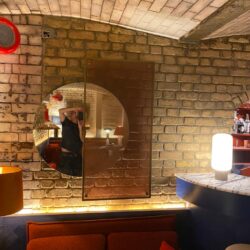 This organic colour metal frame confers elegance to the interior and softens reflections in the mirror.
Black and contrasting olive EPC metal frames offer a stylish look and gives great strength to this office furniture.
Bringing the outside in. These Summer-sky blue plant hangers allow the energy of feng shui through hanging plants inside!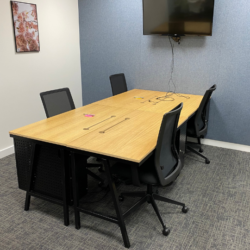 The black EPC metal frames of these office chairs and desks works so well with the timber top finish,
These steel desks are ideal for factories or even just for outside areas. Very "Industrial Chic".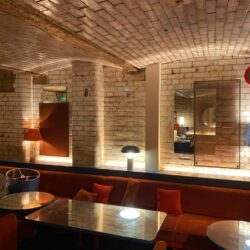 Our metal work is a great addition to this lovely vaulted ceiling restaurant. Such a restful environment.
We can even re-fit complete libraries. Desks, chairs and shelving systems – all through Dymond.
The Dymond ferrule system - quick to install and extremely cost-effective. It allows a crisp, uncluttered retail display.
This is a Dymond ferrule system favourite, the nickel finished stepped display arm.
This is a fabulous chrome plated sloping waterfall arm – great for keeping hangers in place.
This very popular fitment from the Dymond ferrule system is a chrome plated straight arm – great value and a best seller.
This is a chrome finished T bar, these are great for flat areas to give maximum display space.
The Dymond ferrule system shelf – this one has a metal shelf but toughened glass looks great too!
The mock-up shows the different fixtures and fittings within the system…
… and here we have a blue-print of how the system can be used – this is such a flexible system.
The Dymond rail system - this non-modular system enables you to create stylish bespoke displays.
This stylish waterfall drop arm fitting is part of the Dymond rail display system
A clever and smart alternative to the waterfall arm is the straight arm option. A popular choice.
Another option in this rail display system – the raised stepped arm fitting it's great for those niche products.
This is a raised arm fitting another option within the rail display system.
This straight arm rail display fitting is shown on a metal ladder.
Here the rail display system is shown with a back panel and fittings including a shelf.
The D-bar and acrylic shelf show yet more versatility with this system.
This is the profile close up of the aluminium rail display system showing more clearly the utilities channel.
The Dymond vertical beam system - stylish, flexible and so streamlined you hardly see it.
This fitting is called a sloping waterfall arm and is great for keeping hangers in place.
Here we have a vertical beam display with a straight (or horizontal) hanging arm.
This is a CNC laser cut stepped display arm. A great addition to the vertical beam system and really popular.
This is another part of the Dymond vertical beam display system, a D-Bar hanging fitting.
This mid-floor gondola with hanging arms is another fitting in the Dymond vertical beam display system.
It's hard to get a good picture of this one – it is so light!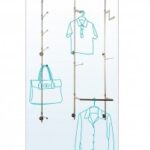 This blue print shows a mock up of just how versatile the Dymond vertical beam system really is!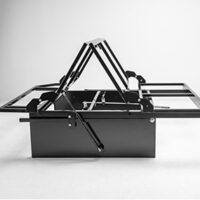 We manufacture and supply very high quality bed frames to the conversion industry – specifically when cost, quality and time is critical to a camper van build. We can do this because we have our own design rock and roll bed frame – the EeZee Glide.
With both safety and strength in mind our bed frames are made of heavy duty steel box section and have a double latch pin locking system which locks either side of the frame. The quality of welding and Engineering Performance Coating (EPC) is excellent, they look great even before they get upholstered!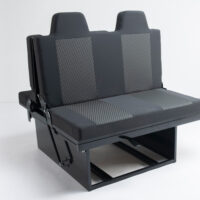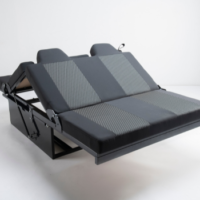 Here are a few shots of one of our upholstered beds. The heavy duty handle makes using the bed so easy – these beds will give you a great night's sleep in luxurious comfort!
The Total Training Tower - TX3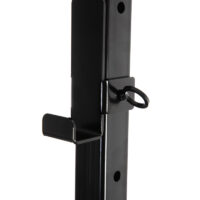 It is hard to do justice to the scale and quality of the TX3 with just a few pictures. We are really proud of this co-created squat rack we worked with a GB Para athlete to produce this one – you can read about it here Jack's story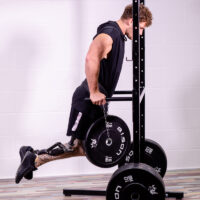 Here are a selection of our hand sanitiser stands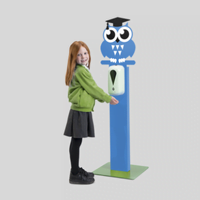 During 2020, we started to fabricate custom hand sanitiser stands for schools and business. They are so adaptable that they will even fit your existing dispensing units, so there is no need to buy new dispensers. Being free-standing, you can place them exactly where you need them, inside or out. We recommend bringing them in overnight or if it pours with rain though!
Matthew, Owner, Blake and Bull
We've had a fantastic relationship with Dymond for many years now and our dealings have grown exponentially in that time. Good people doing good work and wholly recommended by all at Blake and Bull.
Matthew, Owner, Blake and Bull
Taking Shape Testimonial
Taking Shape is an Australian plus size fashion retailer, focused on women's clothing that inspires and celebrates curvy women. They produce vibrant, bold clothing with a hint of "Aussie attitude".
 "It is not easy coming to a new country with the aim of establishing a new clothing brand with retail high street stores and shopping centres, plus online and retail logistics. The quality of shop fittings Dymond Shop Fittings supplied are second to none. Even with the sometimes very short lead times, your company has never missed a deadline. Opening 26 boutiques in a two-year period is a task in its own right and when working under such pressure it is an absolute pleasure to hear the other end of the phone continually say 'we can do that! I cannot recommend your company enough for producing world-class shop fittings"
Lee Turner, Director at Taking Shape
We have a great testimonial from Upright Media – after struggling for months to get my metal staircase compliant with building regs, finally I called Dymond Engineering. Dymond found a solution within minutes of being here. It not only passed, but exceeded all expectations.  Fantastic company, great staff, amazing workmanship, super efficient service, highly recommended.
Andy Casey, Owner, Upright Media, Yelland
Boxfit UK
Dymond Engineering delighted us. Boxfit UK experienced excellent service for our brand-new store fit-out in Romford Essex.
We decided on an industrial look and theme with a modern twist. And once we found the look we wanted, went looking for a manufacturer to produce our floor and wall display units. Thankfully we found Dymond Engineering via the internet.
Mike, Sue and Gavin were really responsive and helpful from the outset. We sent them our design sketches and broad requirements and they then designed the floor stands to meet the look we were after. Moreover they advised us on construction, materials, colours and sizes, etc.
Dymond then worked through our ideas. They made some prototype samples for us to approve ahead of the full manufacturing. So, when all the kit arrived there were no surprises or glitches. They made the delivery to the agreed time and this allowed us to be on schedule for our grand re-opening.
I'm also delighted to report that footfall has increased since we re-opened. Customers are curious of the new store layout and in spite of the COVID pandemic, we have experienced encouraging sales which we are sure is down to the new environment.
Ken Mills, Owner, Boxfit UK
Realm Projects Limited
We had used Dymond Engineering for the metalwork on a previous job. So when we needed a metal fabricator for our Wembley Park Market project we chose Dymond. Not only do they specialise in metal shopfittings, they also submitted a competitive price and deadline.
We presented the concept and drawings to Dymond. They helped us to value engineer the products and worked closely with us to deliver what we wanted. Dymond resolved any issues and advised us of progress as the work went through production. Importantly, when any issues did arise Dymond were responsive in resolving these to our satisfaction with no impact on programme. Dymond delivered the work on time against a tight lead time.
The site has now been handed over. The metalwork looks great and the client team are really pleased with the end result, thank you.
Graeme Blakey, Director, Realm Projects Limited
DWD Retail Products
Condor Cycles are one of the UK's leading manufacturers of bespoke bicycles. Using the latest innovation in Italian designed frames, their meticulous attention to detail means they have led the field in custom cycles for over 60 years.
They have operated from their store in Central London for 10 years. They recently decided to purchase the adjacent premises and develop a flagship store. This will enable the business to grow for another 10 years.
Following a detailed tender, DWD Retail Products were chosen as the main contractors. DWD had responsibility for all elements of the refurbishment, from planning to signage.This included the design & manufacture of all the retail fixtures and equipment, for which DWD commissioned Dymond Engineering/Shop Fittings.
Condor's Managing Director, Grant Young, commented that cycle retailing is a specialist market. He further advised that standard shelving, display and slatwall equipment were not right for Condor. He also commented that it needs to allow the products to be merchandised correctly. DWD and Dymond therefore dedicated themselves to ensuring that each of Condor's products could be displayed effectively. Moreover all the fixtures were custom designed and manufactured to incorporate all of Condor's specific requirements.
The refurbishment took 12 weeks to complete and Condor were able to trade throughout, with minimal disruption to the business.
David Withers, DWD Retail Products
Design at Salt Rock
One of the great things when working with Dymond is they always understand our briefs. They always give advice on how best to achieve our aims and, tell us what they are going to do. And then they deliver what they promised.
They provide invaluable input into the design and functionality of the shop fittings we require. They advise us on strengths and load bearings, engineering costs and address important issues of longevity which are crucial to our retail environments.
As well as their design and engineering expertise, Dymond have always provided excellent quality and customer service. And – they are nice people to work with.
Jamie, Design at Salt Rock
Calendar Club
We at Calendar Club have enjoyed working with Dymond and the team since 2004. They have helped us re-engineer many of our existing fittings, as well as developing new fixtures. This has resulted in a flexible system which enables us to build one of our seasonal units in any location to the required specification in a tough retail environment. When you have to build and close some 280 shops every year as we do, the detail is everything. Dymond understand precisely our particular needs for robustness in transportation, speed of build time, and discreet but stylish solutions.
Any problem we have presented them with, they have produced a solution for. We are always operating under tight timelines and delivery schedules, but Dymond always get us out of potential sticky situations. With their eye also for cost-savings, it helps us to keep growing our business steadily in a difficult and faltering economy. Long may it continue.
Jayne Hughes, Calendar Club
Hills Design Ltd
We have been working with Dymond for 20 years in the design, development and supply of metal based retail display equipment. On every project we have received an instant understanding and buy-in of our creative ideas and solutions.
This is followed by the usual sensible interpretation of the best manufacturing techniques and materials to be be used. And of course at a great price! An instant positive response on prototype requests is followed by full support in the development and refining of our idea through to the final solution. Supply of production orders receives the same level of attention, through to project delivery and after sales support.
It has been, and will continue to be, an absolute pleasure to work with one of the UK's leading engineers in the retail and display industry. They really are 'nice people to do business with'!
Greg Hills, Hills Design Ltd
Wanadoo
When looking for someone to assist in designing new concept shopfitting for our next 500 stores I had no hesitation. I turned to a team I have used previously with great success. Jonathan Loader and Colin Dymond complement one another, with Jonathan providing well considered and effective design input, which Colin translates into practical yet elegant engineering solutions.
Colin has meticulous engineering standards. Dymond, therefore, provide equipment and components which are absolutely fit for purpose. In addition to this he thinks beyond the immediate brief to identify previously unconsidered potential enhancements. 
Dymond Engineering provides a refreshing combination of first class engineering skills and high quality control standards. They adhere to agreed schedules, and work with an innovative, solution based attitude through any and all challenges.
Railston Design
For more than 20 years Dymond have supplied us with innovative solutions at competitive prices, often within tight time scales.
Dymond Engineering work hard to understand a client's needs and repeatedly deliver above our expectations. They value-engineer in accordance with the market and application, and apply considerable expertise within both areas.
Over the period that we have worked with Dymond they have invested in the necessary technology to enable cost effective solutions suited to an ever demanding market.
Steve Rumsey, Chairman, Railston Design
Buttery Sporting
This season we have started using the Dymond Engineering Partridge Feeders.
They are well built and weigh some 25kg when empty. Their weight means that they do not blow around. They are 100% water tight, suitable for the Exmoor wind and rain.
Holding approximately 60kg of compound pelleted feed, they enable keepers to fill only in favourable weather, say on a twice a week basis. NO wet pellets clogging feeders at all.
Certainly we will look to increase our feeder number in years to come.
Gareth Clark, Headkeeper of Buttery Sporting, Exmoor